When I last visited London, I decided to take a guided tour. Strolling along the banks of the Thames, I came across the famous London Plane Trees. It was September, and they were stunning at that time of year: their bark was peeling off to reveal mottled, grey-green trunks. I stopped. Touched the bark; took out my camera. The tour guide smiled obsequiously: "Come along, plenty to see". I put my camera away and was herded over to a curio shop. Plane Trees just don't pay the same commission as mini-Big-Bens.
A great tour guide is irreplaceable, but sometimes you just need to stop and look at the trees. You need to get off the beaten track, and explore the hidden, lesser-known side of a city. Sometimes, you need a tour guide with a pause button.
Building a walking tour app that can fill the shoes of a guide is no mean feat. It needs to tell everybody the right stories at the right time and place, even if they move at different speeds. It needs to give clear directions: to tell you to turn a corner when you arrive at the corner, or cross a bridge or keep walking. It needs to tell you when you're lost.
This is all before you even start to worry about the story being told of course, and whether it will help to make your London experience something special and memorable. Sadly, many app developers spend too much time worrying about the technical details, often at the cost of engaging and original content.
Luckily for you, there are a number of apps getting it right. That's why we've put together this list of London walking tour apps. Each one has approached walking tours a little differently, to shed some light on The Big Smoke's stories.
1. VoiceMap
At the time of writing, VoiceMap has 35 walking tours in London, created by 23 different storytellers.
They're all available through the VoiceMap app for iOS and Android, which uses GPS to play audio automatically, at the right time and place, with turn-by-turn directions. This allows you to put your phone in your pocket, instead of constantly checking the map on your screen. VoiceMap's tours also work offline, and include offline maps, in case you want to double-check where you are at any point along the way.
To get you started, we're giving you a promotional code which you can use to redeem a tour for free when you sign up. Just follow these steps:
Install VoiceMap.
Sign up.
After signing up, you'll be asked if you have a promotional code.Tap Yes.
Go to Redeem Tours.
Enter the code london and tap Submit.
You'll receive a credit that can be used to redeem a free VoiceMap tour anywhere in the world, but why not use it next time you're in London?
Here's a small sample of VoiceMap's London walking tours:
Theatreland Tour with Ian McKellen
Take a whirlwind tour around the heart of London's historic West End with Gandalf himself. On this tour, you shall pass by Leicester Square through to Covent Garden, Embankment and The Strand. Along the way, Ian will regale you with tales of his early days as a young actor, and the changes that have taken place over time in this iconic part of London. Best of all, the tour is absolutely free.
London's Alternative History Tour
Londoner Joey Leskin takes you on a romping tour of the famous sites and landmarks of London. But don't expect the same old stories. Joey wants to show you a different side of the city, and tell the tales you've almost certainly never heard. Obscure history, wacky situations and downright odd characters populate this left field tour of London's history. Sound effects and music will help immerse you into the true alternative history of London, and all for $3.99
Light the Lights: How Culture Defines London
If culture and design is more your bag, let Shaun Nolan show you around the definitive sites that have helped turn London into the global cultural hub it is today. Take in literature, architecture, history and design on this eclectic tour by a truly passionate Londoner, and come away brimming with inspiration. Tour price is $3.99
At Your Convenience: A Lavatorial Walking Tour
For a truly unique experience, plunge yourself into the surprisingly dynamic world of the British Public Toilet. History, humor and plenty of loo stops abound on this quirky tour by The Loo Lady and a varied cast of characters. See London in a whole new light/loo, and learn about some quality lavatories along the way. Toilet paper is optional. Tour price is $5.99
2. Soho Stories
This is my second favourite on the list. The app is simple: the interface is a map scattered with story-bubbles. It detects where you are and plays a story relevant to your location. If you wander off, that story fades away, and a new one kicks in when you reach the next spot. If you retrace your steps, the previous story will pick up where it left off.
It's a great feature, but it does make for a lot of aimless loitering if you want to hear the whole story. This isn't for kids, either; you'll hear tales of hedonism and drama, and they don't shy away from the sleazier stories.
The app was created by the National Trust and narrated by Barry Cryer. All in all, Soho Stories is a beautifully crafted guide to one of London's quirkiest neighbourhoods. It's a fascinating glimpse into the area's history, complete with immersive sound design and interviews with locals.
Sadly, Android users will have to sit this one out for now, but you can get it free on iOS.
3. Blue Plaques London
London's famous blue plaques have had pride of place on London's buildings for over 150 years. Now you can explore them with the official walking tour app by English Heritage.
It's your comprehensive guide to London's 900+ blue plaques. It uses your location to guide you to the buildings that were significant to people from London's past, from Dickens to Hendrix. You can search for the ones that interest you, or hit the 'blue plaques near me' button for those in your immediate surroundings.
And here's why it made the list: there's also a GPS-guided walk. It unlocks the stories of Soho's former residents, with the tacit promise of more themed walks to come. The interface is simple, again: it's a map with directions below. Make sure you keep your wits about you though, because it will involve a fair amount of walking around with your phone in your hand.
Get it free on iOS and Android.
4. Beatles Walk London
This app will send you scuttling across 5 miles of London's busy streets, taking in a wonderful cross section of the Fab Four's time in London. It's more of a map of locations than a walking tour, but they have plotted a route for those devoted souls keen on stringing the 18 spots together into a 5 mile walk.
Unfortunately, the app was last updated in 2010, so it's a little rusty. All the info is presented as a wall of text on your phone, so instead of listening to commentary while you walk, you'll be face-down with your eyes on a screen.
It's also quite a slog, with a huge distance between the sites. Often, your only reward for your perilous hike is a nondescript private house, with occupants rolling their eyes at yet another tourist. There are pictures of each place, so you could comfortably do the tour from your living room – but that kind of ruins the whole idea, doesn't it?
Get it for £0.79 on iOS. Android users will have to find their own way to Abbey Road.
5. Street Art London
If it's starting to feel like we're leaning toward iOS apps here, it's not for lack of trying. Android is much harder to build for, so many apps stick to iPhone. Nonetheless, this app is too cool to leave off the list.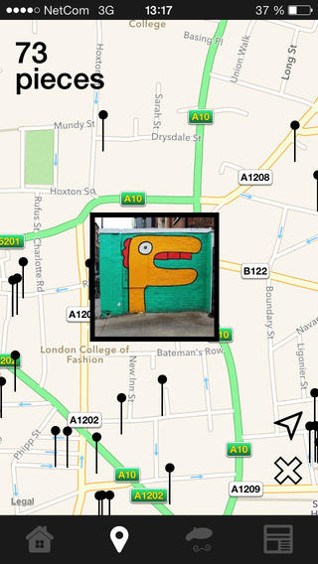 Street Art London does exactly what you'd think: it'll directs you to the coolest murals, scribbles and full-scale artworks around the city. There isn't a particular route to follow. You pull up the map and use it to navigate to pins, which indicate the location of the artwork.
Of course, street art appears and gets painted over, or washed off, overnight. Thankfully, the app promises up-to-date content.
It'll also tell you all about the artists, but it's entirely text based, so prepare for a bit of reading. And yes, Banksy's work is on the app too.
Get it free on iOS.
6. Walking with Dickens
Charles Dickens has certainly left his mark on London, and Walking with Dickens looks like handfuls of literary fun. The app features just one walking tour, in which you'll be guided around the places Dickens lived, worked and wrote about. It tells you there are "more to come", but since the last update was in 2012, it's safe to assume the others have fallen by the wayside.
The app was designed by the renowned London historian Richard Jones, in celebration of the bicentenary of Dickens' birth in 1812. It tracks your location and lets you follow your progress on-screen, so remember to lift your eyes when crossing roads!
This is also a text-based tour, and you'll have to stop and read the excerpts. But that's surely better than loading up a backpack with the great writer's life work and leafing through the pages on a busy street corner.
It's available for free on iOS.
7. TrailTale – London Guided Walks
All right Android-users: time to dust off your walking shoes, because here's one we can all enjoy. London Guided Walks has been put together by a tour guide company as a tech extension of their live tours.
There are a number of themed tours, with the option to download audio narration or read the text yourself on your phone's screen. One thing to watch out for: while the app functions offline, you'll need to make sure you download the content before you go, because the tour comes with high res images of each stop.
The tours provide directions from one point to the next, and the app tracks your location to serve you the right content as you go.
The directions also rely on road names, so if you don't have a working knowledge of London's streets you might be looking at your screen a lot.
The tours are free for a limited time, with no indication of how much they'll cost once the price appears, so grab it now, for iOS or Android.
8. Jack the Ripper – East London
Ah yes. Let's top it off with murdery back-alleys. The Ripper is one of London's most well-known stories, and now you can take a guided lurk around 14 key locations surrounding his five grisly murders committed in the autumn of 1888.
Jack The Ripper's identity is still an unsolved mystery, although there are theories ranging from mad-surgeon-seeking-to-exact-revenge-on-the-prostitute-who-gave-him-syphilis to Freemasons-hired-by-Queen-Vic.
You'd probably do better to figure it out for yourself, really. There are a number of ways to explore. You can take the walking tour, following a suggested route, or you can just browse the locations. You could even read about them from home, if you like.
You'll need to have your eyes on the screen both for navigation and to read the stories, and sadly the whole experience doesn't last much longer than half an hour. But all things considered, it's a great way to piece together this infamous story.
Get it for £0.79 on your iOS device.
At VoiceMap, we're passionate about the tech that allows you to choose your own adventure, and take your exploring at your own pace. A place is more than a checklist of sights, or markings on a map. It's about the stories, and the people who shaped the city. There are amazing walking tour apps out there that allow you to do just that while you travel, and follow your heart instead of a little red flag.