There is so much in a single human voice. This simple fact jumps out at me with every new VoiceMap we publish, in each of the 46 countries where you can now plug in headphones, hit start, and explore.
Take, for example, some of our free audio tours, sponsored by tourism boards, attractions, community organisations, and others – along with one exception, which is also free, but was published privately by design.
The private audio tour was disguised as something public – an ordinary tour, for anyone – but it was actually made for a single, unsuspecting listener, and when a new voice cut in unexpectedly halfway through it, she recognised the voice instantly. It directed her through a magnificent garden to a bench, where the voice was joined by its owner, asking if the listener would, perhaps, be his wife.
Then there are the three different voices that accompany you on a metro ride in Dubai, telling the same story in English, German, and Mandarin while you look out from the elevated railway at the skyline beyond – but colouring each journey differently because all three voices are helplessly unique. (Yes, VoiceMap is now multilingual, and there are lots of new languages on the way.)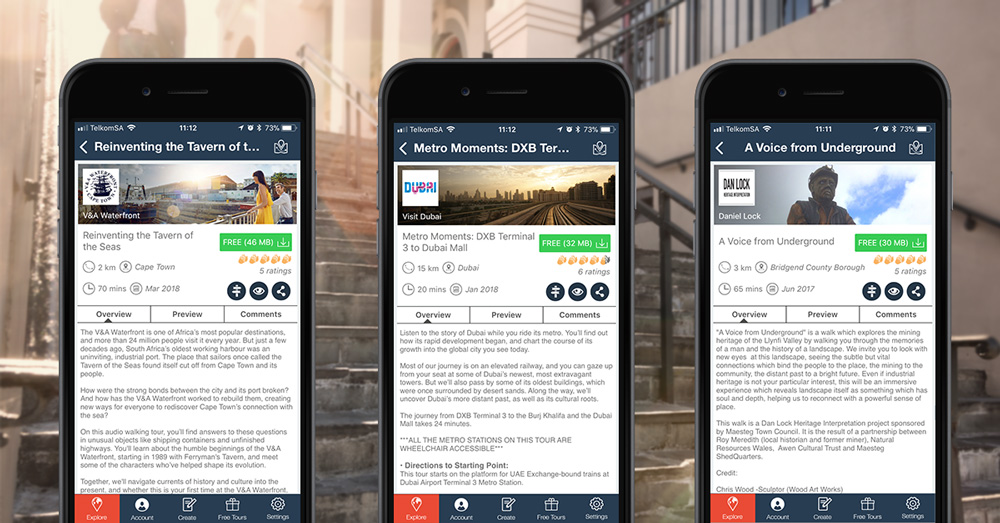 There's also the Welsh lilt of an old coal miner with a voice like gravel, who digs the line "we fed the coal to Aberthaw, into that monster's smoking jaws" out of familiar depths. And there's the pride in the voice of an old harbour master at the V&A Waterfront, when he speaks about the tall ships that used to tie up here, in his corner of the wide open seas, along with the the sincerity your ear picks up when a Medal of Honor recipient says, "I think heroes are the people who don't come home."
I suppose I could pretend that this was all part of the plan when we started VoiceMap more than four years ago. But free tours came later. I didn't imagine a marriage proposal via a VoiceMap either, but that came along too, thanks to a community that invents and reinvents this new, location-aware medium as it goes.
Open up the VoiceMap app and you'll find these voices and hundreds of others waiting for you, at the locations they care about most. And if you want to give a voice to your corner of the world, visit our publishing tool and make something new.