Once Lynn Momboisse got her head around how to produce and distribute high quality audio tours, sales of her complementary walking and driving tours in California started seeing exponential growth
Lynn Momboisse is one of VoiceMap's best-selling publishers. Sales of her walking and driving tours (18 and counting) in Carmel-by-the-Sea, Lake Tahoe, Sacramento and other parts of California have been steadily on the rise since her first tour, Carmel-by-the-Sea: Fairy Tale Houses Walking Tour, went live in mid-2019. Lynn earned five times more from tour sales in 2020 than in 2019, and her earnings quadrupled from 2020 to 2021. This trend broadly follows growth across VoiceMap's platform, which is expected to continue.
Lynn's success comes down to a few key ingredients:
She creates a wide variety of tours.
They aren't in the Londons or New Yorks of the world, but in smaller cities or towns where her tours are among the only high quality tours on offer, whether guided or self-guided, and this helps her dominate the market.
Lynn offers walking and driving tours, most of which logically lead on from one another, giving visitors an opportunity to purchase two or more tours during their stay.
The tours are well-researched, full of personality, and of a high quality overall.
She has developed an efficient process for creating enjoyable tours that work seamlessly every time.
Lynn's tours are sold through a variety of online channels, including TripAdvisor, and in person at Carmel Cares' Visitor Centre, in Carmel-by-the-Sea.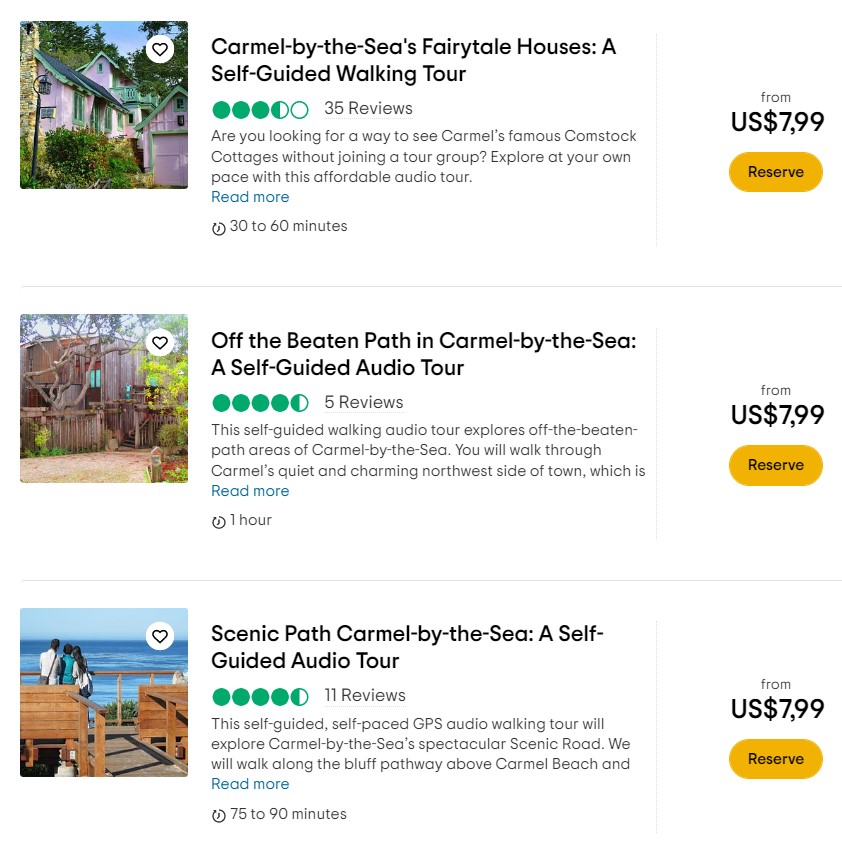 Tour Type: Walking | Driving | Indoor
Tour Cost: Free | Paid
The Publisher
Lynn has dedicated several years of her career to writing and researching, but says it was her love of history, nature and adventure that inspired her to create the blog Adventures of a Home Town Tourist. "It started out as a kind of diary, then a hobby, and is now a nice retirement business."
During many happy years living in Carmel-by-the-Sea, she co-authored the book, Historic Homes and Inns of Carmel-by-the-Sea. Since moving to the majestic Sierra Foothills, she's spent time exploring, writing about her adventures, and creating several more walking and driving tours to sell on VoiceMap's apps.
Challenges
Production
Creating an audio tour with no voiceover skills, recording experience or professional equipment. Often, publishers need to overcome a fear or reluctance of recording their own voice but, with practice, self-consciousness gradually fades away.
Transforming knowledge about a destination into engaging self-guided tours, with no experience of automatic GPS playback and the precise timing and navigation this requires. Without support from people who have done this before, the wasteful mistakes that come with trial and error are the only way to learn.
Discovery and distribution
Making tours discoverable online without existing channels for distribution like mailing lists, a large following on social media, or an app with enough ratings and reviews for tours to be easily and regularly found in Google Play or the App Store.
Not having a network in each tour location through which to sell tours in person.
Solutions
Production
Discovery and distribution
A selection of Lynn's best tours are listed and sold on platforms like TripAdvisor and Viator. In a relatively small city like Carmel, her tours make up a large proportion of activities listed online. On Tripadvisor, 8 of 28 (guided and self-guided) tours in Carmel are Lynn's.
In a sea of millions of apps, the currency is reviews. Without ratings and reviews, you sink to the bottom. VoiceMap's apps are the number one result for the search terms "audio tour" and "audio guide" in both the US and UK, where they also have thousands of 5 star reviews. This gave Lynn immediate visibility, and a reliable and easy way to distribute her tours without the hassle of maintaining a standalone app or providing technical support to users.
Using VoiceMap's (free) Basic Plan, Lynn purchased vouchers that could be used to redeem her tours, which she sold on to Carmel's Visitor Centre. It sold tours at a slight mark-up, and its website includes instructions for installing VoiceMap. Because most visitors arrive at the Centre asking for information about Carmel's 'fairy houses', Lynn's self-guided tour of the city's most famous feature was an easy sell. Word of mouth is especially powerful in smaller destinations.
Rather than trying to compete with hundreds of operators in a city like San Francisco, she is able to capture a large portion of the market in the places where her tours are located. She also encourages multiple purchases during a single visit by providing an engaging and seamless experience that's well-received by visitors, who can easily go on to purchase a second or third tour because she offers both walking and driving tours which logically lead on from one another.
The Process
Many of Lynn's walking tours are based on her favourite strolls or hikes. When she's inspired to create a tour over a greater distance, it becomes a driving tour. Lynn says she approaches each of her tours as a 'home town tourist', asking herself: "What can I share to help others experience a certain place like a local would?"
Every publisher, like every writer, has their own creative process. For Lynn, it always starts with research, and usually that requires a trip to the local library. "Once my preliminary script is written, I take a step back to see if I have told a story. My husband is often known to ask, "What exactly are you trying to get across?"
Once she's clear on the story, Lynn plots her tour's route in the Mapmaker. Next comes a test walk. "If a tour isn't tested properly, it may not work as well, which leads to frustration – and that results in poor reviews and poor sales. I treat the creation of my tours the same way as I run my business," she says.
Usually, Lynn enlists a friend to test each tour, too. "The majority of the people who take these walking tours have never used VoiceMap before, so it's important to get an outsider's perspective."
Clear directions are even more important for driving tours. "I ride shotgun while my husband drives. I carry a clipboard with a list of all the stops and, as we drive, my husband comments if he feels something isn't clear, and I make a note. When we return home, I make the necessary adjustments and we test again. We do this until the tour works seamlessly, and my comment sheet is empty. After that, voiceover and sound effects are added. Then the tour is tested again before we publish."
The learning curve
You learn a thing or two during the process of publishing 18 audio tours. Lynn says that making directions as clear and concise as possible has been part of this learning curve. "Sometimes, if I just can't find the right words to direct people to a particular stop on a tour, I listen to how Siri says it. She's been doing this for far longer than I have!"
Reception
Such a great way to learn more about the area, history, & appreciate all the interesting architecture! Such a great way to learn more about the area, history, & appreciate all the interesting architecture! Super well done & GPS is spot on!
Guided house audio tour at your own pace. This GPS-based audio walking tour worked perfectly. The tour views houses from the street. We enjoyed the history and architecture lessons which put the houses and the region into perspective. My wife and I each used our phones but they were not always in sync. Since we were outside walking the street I would have in hind site used one device with the volume a little higher.…
Great history tour What a great walking tour. Very informative. My husband and I agreed this was a great addition to our 3 day trip to Monterey.
Loved the Fairy Tale Houses Walking Tour Really enjoyed this walking tour! Love this app...easy to figure out and could stop, start, pause etc...can even stop and resume another day.
Leeannsoder
June 4, 2022.
Peaceful and insightful walk among houses This was a relaxing and peaceful walk through one of Carmels oldest housing area. It was the perfect way for my girlfriend and I to get to know a little bit about Carmel while enjoying each others company. The recorded guide was excellent and easy to use and follow. I recommend…
Cannery Row experience A great experience with lots of information about Cannery Row and its residents. Would definitely recommend this very good value for money tour.
The majority of Lynn's tours have five star ratings. Many people who download one of her tours go on to do a second.
Sales of Lynn's tours have seen exponential growth. She earned five times more from tour sales in 2020 than in 2019, and her earnings quadrupled from 2020 to 2021.
One of the goals behind the development of Lynn's tours is supporting Carmel's businesspeople, and helping to bring tourism back to the area. "We most certainly have done that! We're hoping to produce more tours in Carmel in future," she says.
Lynn's tours across VoiceMap.me have had over 25,000 pageviews, with the total views in a given month increasing by an average of 233% year-on-year
Publishing tours on VoiceMap is a fulfilling process for Lynn. "Each time I've published a new tour, I've been pleased with the outcome – although, without Gary (VoiceMap's Head of Production) working with me tirelessly, I probably would not be as pleased!"
Lynn consistently earns a passive income from her tour sales, and enjoys the creative process. "Anyone can create a VoiceMap tour, but if I wasn't passionate about sharing my adventures with others, I wouldn't be doing this. VoiceMap is a perfect match for me as it costs nothing up front but my time!"