Annie Sargent's travel podcast has provided her with the perfect audience for a series of VoiceMap audio tours in Paris. In 2022, her sales were up by six times on 2021, and half of her listeners buy more than one of her five self-guided tours.
Annie Sargent knows two things for certain about people who become fans of her travel podcast, Join Us in France: they enjoy audio, and they like France. They also really like her, it turns out, and with those three ingredients, she has a ready-made market for VoiceMap tours.
This is one reason why Annie sells almost as many tours through her own website as she does through VoiceMap's website and apps. It's also why she sells more than one tour to most of her listeners. It helps that Annie's tours are excellent, of course, with over 750 five-star ratings, and she has become one of VoiceMap's most successful publishers, selling thousands of dollars' worth of tours in 2022.
The factors that have contributed to Annie's success include:
Annie's tours stand out. She's developed a process for creating memorable tours that listeners love, full of genuine passion and insights into French culture.
She sells tours to an existing fanbase and, in the introduction to each episode of her podcast, she mentions her GPS audio tours alongside the other products and services that help her monetise Join Us in France. (Skip to 01:22 using the embedded audio player below for an example.)
She sells tours through her own channels, netting roughly two times more per transaction on sales through her Boutique than on sales through Google Play or the App Store. (You can compare earnings from different channels here.)
All five of her tours to date are in Paris, which is an excellent fit for her audience. It's popular most months of the year, for a start, but it's also where most of her podcast listeners – and the majority of visitors to France – will start and end their trips. (Our last case study, about Lynn Momboisse, highlighted the advantages of less popular destinations, where there is less competition and information is sometimes tricky to find.)
She's made sure all five of her tours are complementary by covering five storied neighbourhoods in a format that is broadly the same. Listeners can do any of her tours first, but whatever they choose, they'll get a clear idea of what they can expect from Annie's other tours.
Annie's tours are sold through VoiceMap's website and apps, on her website, via social media, and through Patreon.
Tour Type: Walking | Driving | Indoor
Tour Cost: Free | Paid
The Publisher
French-born Annie went to college in the United States, where a career as a technical translator – and, later, a new family – kept her for far longer than expected. Sixteen years later, she returned to France and decided to build a business around her newfound passion for rediscovering her own country. First came her travel podcast, Join Us in France. Then, one day, she heard somebody mention that they were creating a VoiceMap tour around Père Lachaise Cemetery, and it piqued her interest.
"That was the point when my podcast was starting to get more listeners, and people wanted me to offer in-person tours," says Annie. "I had started guiding small tour groups, but managing people is a lot of work. If somebody loses their wallet, for example, you've got to stop the tour." The fact that Annie could remotely create tours of Paris from her home in Toulouse convinced her to try her hand at a self-guided VoiceMap or two.
Challenges and Solutions
Tour Production Challenges
Annie had planned and scripted plenty of podcast episodes, and she had led in-person tours, but she had never created a self-guided tour.
Holding the listener's attention on a self-guided tour is tricky, and the tactics you use in person, on a guided tour, aren't much help. Podcasts aren't a helpful model either, for the most part, because people often listen to them while they're doing something else, like driving or working out. You can't keep your audience on their toes by cracking spontaneous jokes or ad-libbing either, because tours are scripted before recording starts.
You need to decide what to leave out! Annie is both passionate and deeply knowledgeable about Paris and could go on and on about any number of locations on her tours. But the best tours only take between one and two hours and keep people moving most of the time, instead of standing around waiting for the audio to finish.
Tour Production Solutions
Working with any platform that's new to you requires trust and commitment, Annie points out. It helps when you have an editor to guide you, and a user-friendly tool with which to create your first tour. (More on VoiceMap's tools later.) "If you've never created an audio tour, it's not going to be easy the first time," says Annie, "but VoiceMap's team is really easy to work with." She also enjoys learning what she can from other VoiceMaps and takes tours whenever she travels, in France and beyond.
Keeping audio tracks short keeps people engaged. VoiceMap's Mapmaker calculates talk times that match travelling times so that automatic GPS playback is triggered at the right moment. These talk times are converted into word counts, giving publishers a clear roadmap during the script-writing process. As far as keeping her listeners engaged goes, Annie likes to answer the questions that experience tells her most people are dying to ask, like where to find the most authentic cuisine in Paris. "You have to challenge what people already think they know about France. You don't want to create boring, vanilla tours!"
Remembering that no one wants to hear a neighbourhood's unabridged history during a single tour. "Whether it's an in-person tour or a VoiceMap tour, you can't talk to people until their eyeballs roll into the back of their heads!" says Annie. "Keep it lively and entertaining. If you have enough interesting material to turn it into a series of tours, why not? The best way to promote anything is to create more than one of it."
Discovery and Distribution Challenges
Converting an existing fanbase of podcast listeners, blog subscribers, social media followers and Patreon supporters into audio tour customers.
Competing with other self-guided tour apps without making this a full-time job and getting the ratings and reviews that are essential for discovery in the App Store and Google Play – or offering tech support around the clock.
Packaging tours in a way that encourages listeners to buy more than one at a time.
Discovery and Distribution Solutions
For Annie, making sure that your fanbase is well aware of any new tours you've created is a no-brainer. She sells tours via her mailing lists, social media, her podcast and her website, where she offers discounts for multiple tour purchases. "If you're a podcaster, it really makes all sorts of sense to sell audio tours because your fans are 'audio people'. Once a tour goes live, I start talking about it in every episode of the podcast. If you have a list of people who bought your audio book, for instance, perfect. Email them about your tour."
VoiceMap's apps are the number one search result for "audio tour" and "audio guide" in the US and UK as well as a number of other countries. They also have thousands of 5 star reviews in the App Store and Google Play. Because Annie's tours are highly rated, when VoiceMap's users search for Paris in the VoiceMap apps, her tours are at the top of the list. Annie's tours are also extremely easy to find on the web because voicemap.me/tour/paris is consistently among the top three results on Google for "Paris audio tour".
Annie sells vouchers that can be used to redeem her tours on her website's Boutique. She offers discounts for purchases of more than one tour at a time, with up to $9 off for fans who buy all five of her tours. Annie buys and manages these voucher codes using VoiceMap's dashboard for publishers. She started out paying $0.89 per voucher on VoiceMap's Basic Plan, which has no upfront or recurring costs, but she's now selling enough for the Pro Plan's $0.62 cost per voucher to make more sense.
The Process
Annie likes to begin by walking. She follows a few possible routes in the neighbourhood she's chosen to create a tour, paying close attention to any interesting details that she may not have noticed before. Once she's clear on her tour's route, she plots it in Mapmaker.
Next comes the writing component, where passion is an essential ingredient, says Annie. "You really need to have passion or you won't write with enough attention to detail – plus people are going to hear it in your voice. Always cross-reference your sources! Writing engaging, well-organised content takes time, and if you don't want to spend time thinking about it, then don't do it."
Annie uses the gaps between places of interest to share insights about France. "I like to use the lulls to inject some tidbits about French bakeries or something else that I know people are interested in," says Annie. "I want to talk about French history and culture, and the reason why these buildings matter."
Plenty of well-travelled Francophiles buy Annie's tours, too. "It might be someone's twentieth visit to Paris and they think, 'I don't need a tour to see Montmartre, I've been there.' But often, they're surprised by how different it is to see Montmartre through the eyes of a French person who knows quite a bit about its history."
VoiceMap's Mapmaker tells publishers exactly how long or short each part of their tour's script needs to be, so that talk times match travelling times and automatic GPS playback for one location doesn't interfere with GPS playback for another location. But sticking to word counts is a challenge for most people, Annie included, and a couple of rounds of decisive editing usually come next.
With the script just about done, Annie converts her script into a series of AI-generated audio files using VoiceMap's Text-to-Speech feature. Then, she test walks it while listening to this "robot voice" to make sure the timing is perfect.
"Then, once I've recorded the tour, I like to walk it again a few times. I'm kind of picky about everything playing in the right spot, and recently people have remarked on how accurate the GPS autoplay is in my tours. Most of the credit goes to Gary (VoiceMap's Head of Production) – he helps me with that. Then I like to have somebody else test walk my tour before I put it live, just to see if I missed anything. Once it goes live, I start talking about it on every episode of the podcast! And the best way to promote anything is to create more than one of it – especially for podcasters like me," she says.
Reception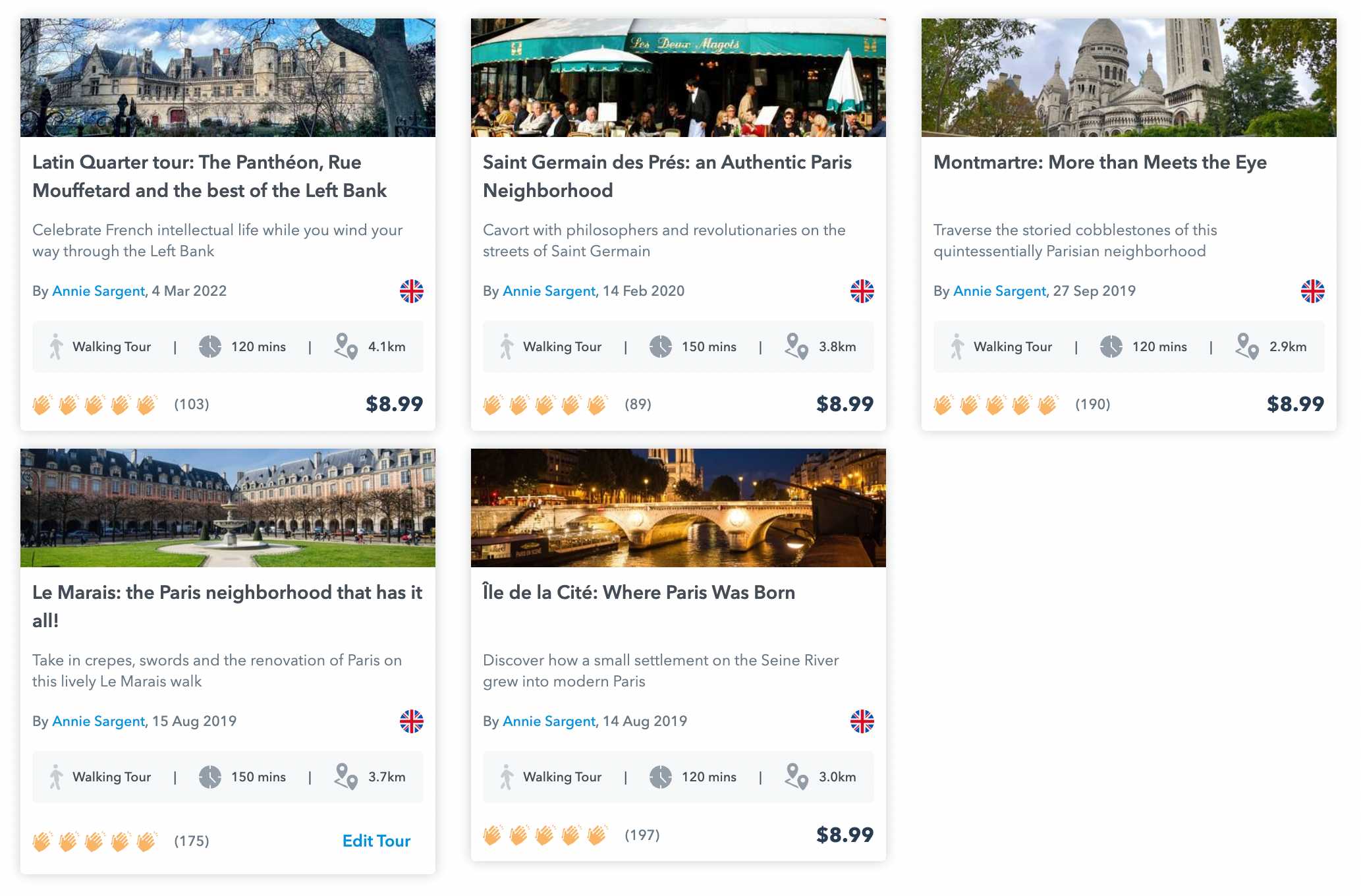 The average rating for Annie's tours, out of five, is 4.85!
Almost half (48%) of people who've purchased her tours have bought more than one, and 15% have bought four of her five tours. This is despite her fifth tour, of the Latin Quarter, only being published in March 2022.
Annie's tours are not just popular with visitors to Paris: A surprising number of people enjoy listening to them in Virtual mode from home – or anywhere else – with photographs of the locations en route. "There are plenty of people who actually buy my tours even though they have no plans to come to Paris. It's like an act of hope," Annie explains.
Sales of Annie's tours continued to grow after she put the prices up from $6.99 to $8.99 and they're now a reliable source of passive income.
Having a collection of self-guided tours that she sells online encourages people to explore the other offerings in Annie's inventory, including cookbooks and itinerary-planning services.
Annie enjoys the process of creating a product of real value. "I saw the opportunity for me to tell the stories that I really care about – and which I didn't think people were getting anywhere else. If I'm going into a city, I'd rather walk a VoiceMap tour than find a guide because you never know who you're going to get!"