It can feel a little bit like magic when VoiceMap tours point out a revealing detail at exactly the right moment, to show you something you'd normally walk by without a sideways glance. But it's actually a spell that has been carefully produced by our editors, who help every single one of our publishers with the ins and outs of automatic GPS playback.
That's why we're surprised by our data, which suggests that for a surprising number of VoiceMap's listeners, automatic playback doesn't matter at all. In fact, over the last 12 months, about 15% of them have started tours more than 100 kilometres from their starting points. And about a quarter have used the VoiceMap app's Continuous Play feature, which is designed for listeners who might be at home washing the dishes, or on their way to work – or on an aeroplane at the start of a trip.
How to use VoiceMap like an audio book or podcast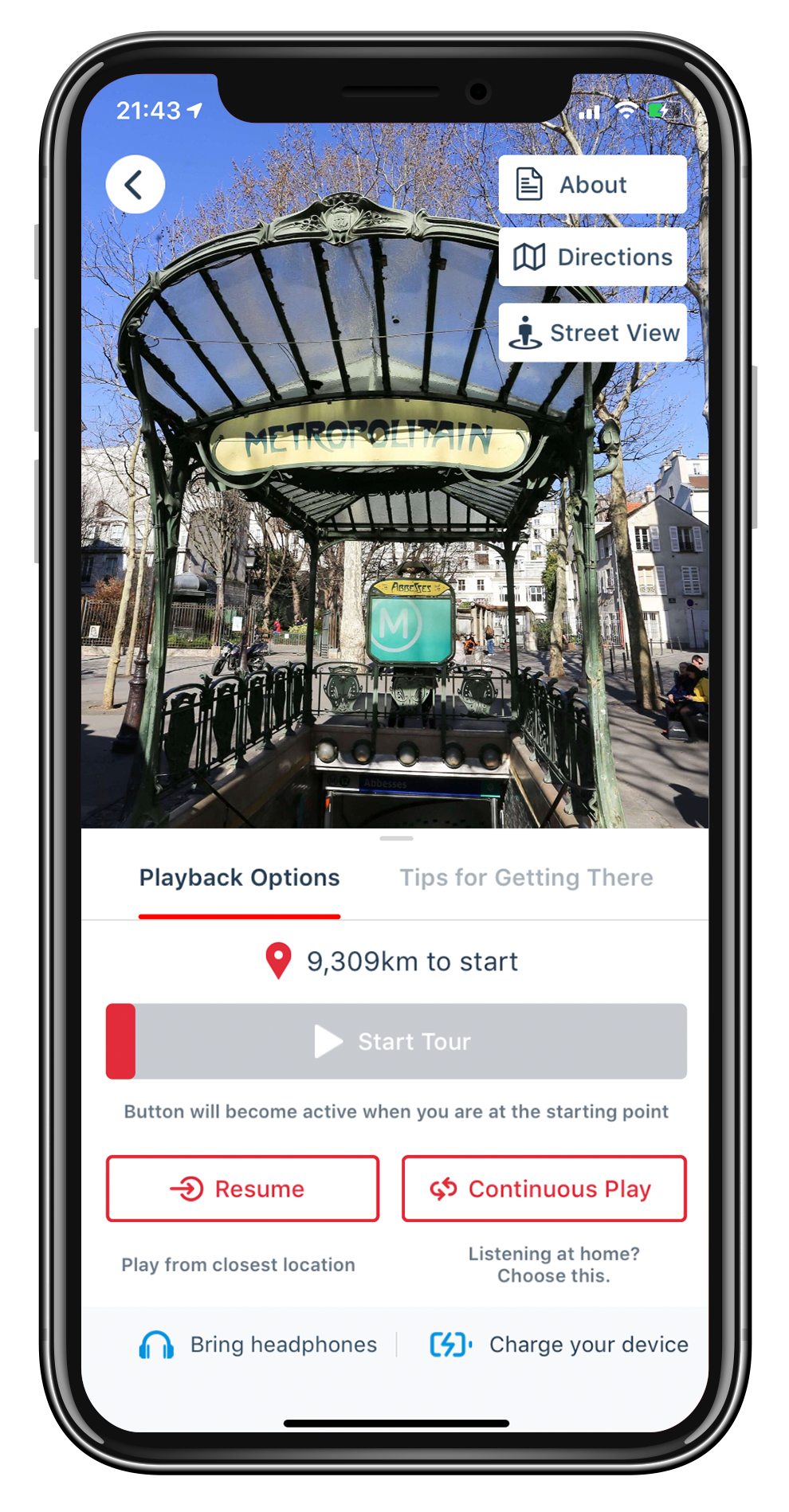 There are three ways to play a VoiceMap tour once you've downloaded it:
Start Tour, which has a button that activates when you're close to the starting point
Resume, which starts the tour at the location closest to you, wherever you are
Continuous Play
If you select either Start Tour or Resume, VoiceMap uses automatic GPS playback. After audio at one location ends, you only hear the next location's audio when you get there – or you skip tracks manually. Continuous Play works differently: GPS playback is disabled, and the tour plays one location after the other, from beginning to end.
When you select Continuous Play, VoiceMap tours work like podcasts or audio books, with a different kind of magic. There's a map on the screen, and you can follow each route as the audio moves along. There are often photos too, showing you what places look like now – or what they looked like a century ago. Then there's our tour of Oxford University, which has 360 degree videos and augmented reality objects.
But in the end, it's the way VoiceMap tours were produced that makes them interesting to listen to without being there. They aren't podcasts or audio books. They're stories that start and end with a map, and it's this that makes them uniquely immersive.
Why aren't VoiceMap tours the same as audio books or podcasts?
At VoiceMap, we've divided publishing an audio tour into a series of predictable steps. The first of these is drawing a line that matches the route on a map. The second is adding locations to that line. Once both jobs are done, our tools measure the distance between locations and estimate an audio time and even a word count that matches walking, cycling or driving times between them. This keeps VoiceMap listeners moving when they do it on site, and it's why they see and understand more than they would if they were stopping regularly to crowd around a guide. But it also brings the tour's geography into focus from the outset, helping to tell a story that would be very different if it began with a blank page.
One of our most experienced publishers agreed with us when we asked how starting with a map had influenced him. "I was delighted, actually," he replied, "by how quickly the presence of the map, as well as the act of walking through the physical spaces, required me to tighten my focus. I immediately deployed a discipline I typically resist — the discipline of concision. It's like being asked to write a six-word memoir, or to tell your life-story to an interviewer in sixty seconds, or to compose your epitaph for the narrow grave marker looming up ahead — it can be done, to be sure, but there's no room for fluffing around, revving your engines, or clearing your throat. Instead of staring at a terrifying blank screen with its daunting infinity of possible pathways forward, I had the map — simultaneously constraining and liberating. The storyteller with a map must cut the bullshit at once — and speak!"
The proof is in the listening, of course. You could start with our free tour of London's Theatreland while you do the dishes. It's narrated by Sir Ian McKellen, and it has a couple of Lord of the Rings Easter eggs. Then you could follow Annie Sargent through Paris while you hang up the laundry. (She has Île de la Cité, Marais, Montmartre and Saint Germain des Prés tours.) After that, wind your way through Lisbon's eclectic Alfama neighbourhood while you're on the treadmill, or discover Viennese snacks, Roman trattoria and Madrileño tapas while you prepare tonight's dinner. Our tour of Carmel-by-the-Sea's fairytale houses has plenty of photos, and you might want to listen to it sitting down with a cup of tea. Or, if you're drinking wine, you could take a tour of the cellar, vineyards and manor house at South Africa's oldest wine estate. There are driving tours too – like this free tour about segregation in Kansas City – and they might be particularly transporting when you're stuck in traffic, doing your regular commute. 
We could go on. VoiceMap has hundreds of tours, all over the world, and we're always publishing something new. Once you've added a tour to your account, you can access it at any time, on any device, even if that tour is eventually archived. In other words, you can use it at home and then again later, on site – and we hope that you enjoy one of our virtual strolls so much that you decide to get yourself to its starting point one day, even if it's thousands of kilometres away. Please let us know if you do. We like to say that VoiceMap tells stories that move you, but we had directions to turn right at the next corner in mind. We didn't expect our tours to take listeners quite so far.