More than any other city, Paris is an infatuation. It's even a syndrome for some, who find themselves suffering from anxiety and hallucinations – or even physically sick – when the Paris they arrive in is not the romanticised City of Lights they have come to expect. The City of Lights has reached us from afar, through the imaginations of artists, writers and filmmakers. It's picture perfect – but only from afar, because Paris is also big, dirty and prosaic like any other metropolis, and it has over 25 million visitors per year queueing outside its landmark attractions.
What Paris do you visit, then, when you take a virtual tour? That's all anybody can do for now, after all – even Parisians, who are under a strict lockdown to slow the spread of COVID-19. (It's scheduled to end halfway through May.) The answer depends on what you mean by "virtual tour". Do books count? What about Zoom video calls with an experienced guide who is stuck in their apartment, just like you, even if theirs is in Paris? Or does the virtual in "virtual tour" refer to a high-tech simulation of reality, like it does in virtual reality? According to one definition, "something virtual is effective in essence but not in name," which makes sense, but leaves the door open to virtually anything. (You'll have to forgive me for that.)
I decided to start with the widest range of options I could uncover online, ready for me to do right now, then I rated the best of them using three criteria that you could just as easily apply to non-virtual tours:
How immersive is it?
How interactive is it?
How in-depth is it?
For me, a tour is immersive if it draws you in so well that you forget for a moment that you're on a tour. It's interactive if you can take an action and receive a reaction. And it's in-depth if it goes beyond commonly known facts to tell surprising, revealing and interrelated stories.
I didn't find as many virtual tours of Paris as I expected, and I'd love to hear about others. But from a starting point of about 30, I've shortlisted the six best virtual tours of the City of Lights you can do right now.
Explore Montmartre's Sacré-Coeur on a virtual tour
Immersive: 8/10
Interactive: 8/10
In-depth: 8/10
Cost: Free
The Sacré-Coeur's full name, in English, is the Basilica of the Sacred Heart of Paris. Like many other of the city's other iconic attractions it has a virtual tour, but the Sacré-Coeur's is the best of them. Its interface allows you to move through a series of 360 degree photographs both inside and outside the basilica, with audio to describe each perspective. There are clickable hotspots too, which open images, text descriptions and even a short video. In total, this virtual tour allows you to take in the basilica and its panoramic view of Paris from 450 different perspectives, with 475 information windows. It's in-depth, interactive and so immersive that I lost myself in it for a while and almost burnt my dinner. This was my favourite virtual tour of the City of Lights.
Tips: You can take this virtual tour on your computer, tablet or smartphone and while you can't save your progress, you can navigate using two floorplans: one inside the basilica and another outside it, with the perspectives from its domes and roof. To open the floorplans, just click or tap on the icon with a location marker over an X. It's at the far left of the menu. And if you're wondering what all the other buttons do, scroll down. There's a key just below the tour itself.
You might also like: Once you've finished exploring the Basilica, you might fancy a stroll through Chateau Pierrefonds. Their virtual tour includes arrows letting you know where to go, close-up images, and the ability to explore both the inside and outside of the castle. From there, you can explore the less interactive Catacombs of Paris. (It has a similar interface to Google Street View). Or take a virtual walk through the Musée des Arts Décoratifs, Monnaie de Paris or the Louvre.
Discover the Marais with a VoiceMap audio tour
Immersive: 7/10
Interactive: 5/10
In-depth: 9/10
Cost: $6.99
Duration: 60 minutes
The Marais has such a well preserved medieval street plan that it is still called "the maze" sometimes, but this neighbourhood that was once where the aristocracy made their elegant homes is now also a hub for trendy bars and boutiques, as well as the city's LGBT community. VoiceMap's audio tour takes you on a virtual stroll through Le Marais, helping you navigate long years of history with an interactive map, photos of each location, and stories that are told beautifully by Annie Sargent of the popular Join Us in France podcast. Take the Church of Saint-Paul-Saint-Louis, for example. It was a Temple of Reason during the French Revolution, when it was already well over one thousand years old, and French King Henri II lost a fateful joust on its doorstep.
There isn't much to interact with while you listen, but this tour makes my top three because it has so much depth. The fact that VoiceMap tours were produced to match the geography helps to make them a more immersive armchair experience.
Tips: For uninterrupted playback, download the VoiceMap app, select Paris, download the Le Marais: the Paris neighborhood that has it all! tour and click on Continuous Play to listen at home.
You might also like: VoiceMap has a number of audio tours in Paris. Looking for a kid-friendly tour of the Marais? Want to discover where the writers and artists of 1920's Paris spent their time in the Montparnasse neighbourhood or hear about the famous occupants of the Père Lachaise cemetery? We've got a tour for everyone.
Explore various sections of Paris with YouVisit and the city's official tourism bureau
Immersive: 7/10
Interactive: 5/10
In-depth:5/10
Cost: Free
Youvisit's whistle-stop tour of Paris takes in twelve of the city's greatest hits, including the Eiffel Tower, Sainte Chapelle royal chapel, the Luxembourg Gardens and the Latin Quarter. The homepage seems promising, and its short 360 degree videos from each of the twelve landmarks are transporting, especially with the quintessentially French accordion that plays in the background. But after that, there isn't much depth to the experience, and it ends up feeling like a high-tech brochure.
You can click through to each landmark, where you'll see a 360 degree photo and hear a cursory audio description. You can go a little deeper with more 360 degree photos, ordinary photos, short videos without narration, as well a small number of text descriptions. I did like the little ticks that appeared after I'd viewed something because they helped me navigate, along with the map at the bottom left corner, but overall this was too focused on the visual aspect of a virtual tour.
While you can play this tour on your smartphone, features like the map and photographs are disabled, and you'll be directed to install the YouVisit Colleges app. At the time of writing, it only has college tours.
Tips: If you click on the photo in the bottom right corner, it'll open a new menu for that area so that you can easily switch between different images, panoramic views and videos.
You might also like: YouVisit has created virtual tours in a number of locations around the world so if you enjoyed their Paris tour, you might like to browse through some of their travel-related offerings.
Let a local guide you on a virtual tour around the Louvre
Immersive: 3/10
Interactive: 7/10
In-depth: 6/10
Cost: From $11
Duration: 60 minutes
The Louvre is the world's largest art museum with a collection of roughly 38,000 pieces covering everything from prehistory through to the 21st century. It also gets almost ten million visitors a year, which can make actually visiting the museum an overwhelming and often disappointing experience. This virtual tour of the Louvre is an alternative. It's available through Viator, which recently launched a collection of virtual tours.
Tour might not be the best word in this case because this is more like a webinar, with an expert guide making a presentation using videos and photos. There is a Q&A at the end of this hour long tour, which makes it reasonably interactive, and because it focuses on the museum on its own – instead of the whole of Paris, like other virtual tours – there's time for at least some depth. You'll need to book ahead of time, and you'll join a group of up to 25 people.
You might also like: Viator is regularly adding more virtual experiences but at the time of writing, they offer only two tours in France's capital city: the one I've reviewed and a free virtual reality tour of the Palace of Versailles. Airbnb Online Experiences also offers virtual tours but the only options in Paris right now are essentially webinars. They have to be until the end of the strict lockdown in France. When these restrictions are relaxed, we'll probably see guides streaming tours while they walk, like this Jack the Ripper tour in London.
Walk around five iconic Parisian rooftops with Google Arts & Culture
Immersive: 5/10
Interactive: 6/10
In-depth: 4/10
Cost: Free
See Paris from a series of unique perspectives by taking a virtual stroll along the rooftops of five iconic Parisian landmarks including the Eiffel Tower with Google Arts & Culture. You can also visit the Paris Opera, the Grand Palais, the Philharmonie de Paris and the Saint-Jacques Tower. Scrolling moves you from one landmark to the next and after that you basically have a Google Street View interface, with arrows that allow you to change your position.
While this tour can be viewed on a computer, tablet or smartphone, I'd suggest sticking to a smartphone as the image moves as you turn your screen which feels more immersive. There's a clear theme, unlike a lot of the other content on Google Arts & Culture, and the tour does provide interesting views from these famous landmarks, but none of them will hold your attention for long.
Good to know: Using Google Arts & Culture you can go inside some of the landmarks and learn more about the place through images and stories.
You might also like: A tour of Paris as seen from a boat going down the Seine or a meander through the Palace of Versaille.
Discover Paris through the pages of Paris in Stride travel guide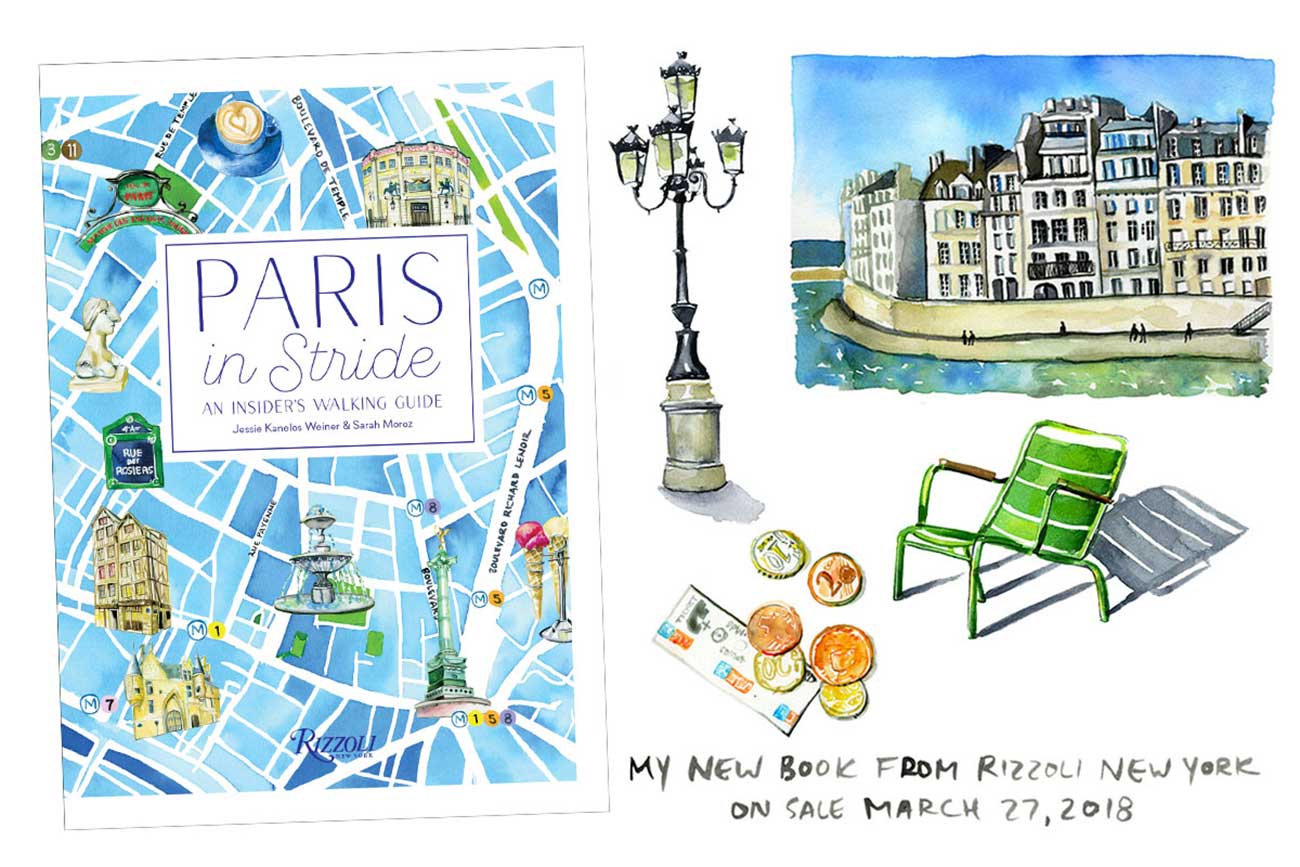 Overall: 4.6/10
Immersive: 5/10
Interactive: 1/10
In-depth: 8/10
Cost: $27.50 from the publisher
Now most of you will probably shake your fists and say "books aren't virtual tours" but I've always been a firm believer in the power of books to transport you to another world or city. Instead of high-resolution 360 degree images, Paris in Stride uses charming watercolour maps, illustrations and insightful and witty prose to take you on seven neighbourhood walks. And like any tour worth its salt, it'll show the lesser known spots like a hidden church and a tailor-shop turned café as well as all the main attractions.
The book will walk you through the various neighbourhoods, giving you historic snapshots and the local lowdown of where to go and what to do. And while the illustrations invite some interaction, it wasn't enough to stop this tour gaining the lowest score. But that didn't stop one reviewer from saying this: "Although I didn't get a chance to actually take the walks suggested in the book, it still sparked much joy, curiosity, and anticipation for the next time I explore the City of Lights."
This book will delight bookworms like myself who perhaps favour the escapism of books over screens and provide a couple of hours of armchair travel. The book is illustrated by Jessie Kanelos Weiner who is one of the co-authors along with fellow Franco-American Sarah Moroz. You can order it from the publisher or purchase it online. Unless you download the ebook, you might experience delays in receiving the book depending on your country's quarantine restrictions.
You might also like: If like me, you have a vivid imagination and reading can transport you to far off places then these two other books might just provide the ultimate virtual tour for you. Forever Paris: 25 Walks in the Footsteps of Chanel, Hemingway, Picasso, and More by Christina Henry de Tessan is a book that, as the name suggests, follows the footsteps of 25 former Paris residents and lets you discover the city through their eyes. It includes photos and maps throughout to help you through your virtual tour. Another great and similar read is The Streets of Paris: A Guide to the City of Light Following in the Footsteps of Famous Parisians Throughout History by Susan Cahill with photographs by Marion Ranoux. It follows the lives of 22 famous Parisians and each tour begins outside a metro station and ends with suggestions of nearby cafes, restaurants, museums, gardens and other places of interest.